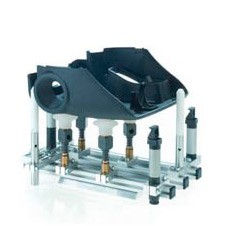 Gripper Assembling
Complete gripper systems under one roof
Planning, Design, Construction and Installation

Our application know-how for your implementation!

FIPA is expanding its spectrum of offers and now designs and builds complete gripper systems for End-of-Arm-Tooling. Everything under a single roof and based on the modular building block principle, which facilitates independent solutions.
Turnkey solutions are provided, including the planning, design, construction and installation of gripper systems, together with the popular and comprehensive range of components.

Prospective customers have the freedom of choice. FIPA proposes three variants aligned with many years of experience in practice:


Variant 1:
You plan and implement the gripper system independently and the components required are supplied by FIPA. A comprehensive range of field-proven gripper components that are permanently held in stock make this possible.

The benefit: Projects are executed expeditiously and cost-effectively.


Variant 2:
FIPA takes over planning and design on 3D CAD and supplies all components as well as detailed instructions for installation. You install the gripper system independently. The ideal variant for all those who wish to benefit from the know-how available at FIPA and, at the same time, are price-conscious.

The benefit: Cost saving accrued by independent installation, standard components of FIPA combined with special CAM parts. This is the solution for almost all tasks pertaining to End-of-arm-Tooling.


Variant 3:
You opt for a turn-key and complete solution. FIPA designs and supplies a pre-assembled and preset gripper system, which, post delivery needs to be adapted and adjusted only with respect to some minor details to the specific situation at site.

The benefit: Transferring the entire process chain to FIPA saves time and manpower capacity and ensures a reliable solution for the task at hand for a price that is calculated in advance.